15 Homes
Energy Equivalent Reduction
90%
Cooler than HID Fixtures
40 kW
Load Reduction
175,000 kWh
Energy Consumption Reduction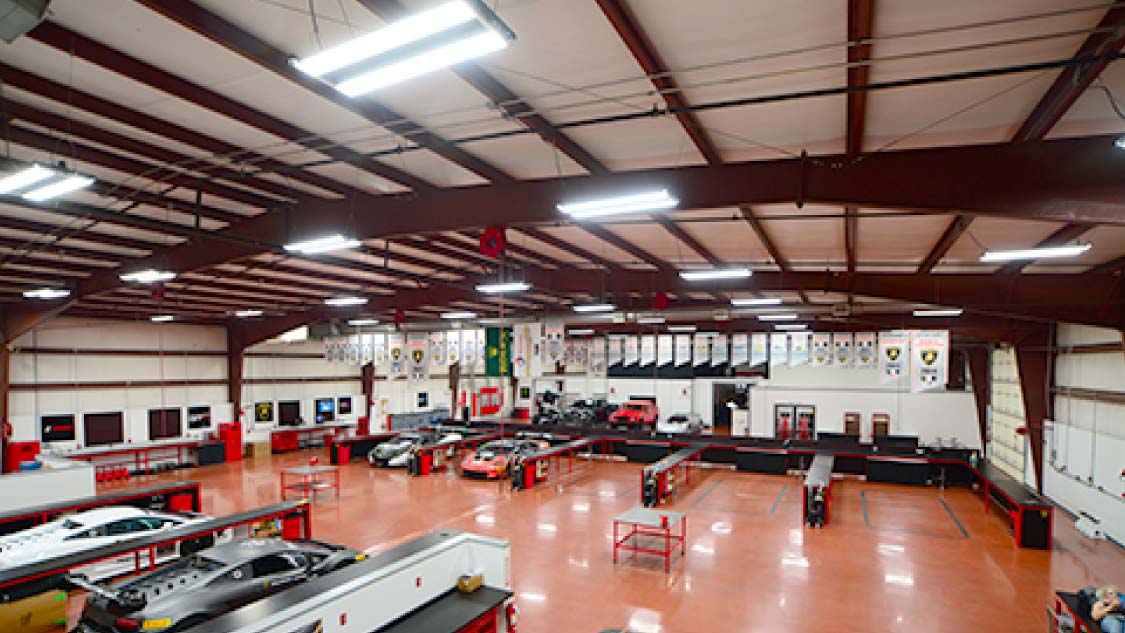 Change Racing is a team competing in the IMSA GT class, as well as the Lamborghini Blancpain Super Trofeo Series. Founded by successful real estate developer and Lamborghini Carolinas CEO Eddie Littlefield, along with NASCAR team owner Robby Benton, the duo first joined forces to compete for the 2013 Lamborghini Blancpain Super Trofeo Series North American Championship in its inaugural year in North America. The team won back to back World titles in 2014 and 2015.
In a sport where money buys speed, we can divert the energy savings from our lighting retrofit to other areas that will increase our performance on the track.

Robby Benton, Team Owner
Challenge
Change Racing, like many other companies, understood that improving their bottom line performance is essential to their success, whether the goal was capturing a checkered flag, or delivering the next profitable quarter. Yet in the pursuit of these cost reductions, companies often miss an easy chance to improve their bottom line that reduces both their operating and maintenance costs, by upgrading their existing lighting systems. As Change Racing's team principal, Robby Benton, put it, "We had metal halide lights that ate up electricity. I hated it every month when I looked at the power bill." In addition to being costly to operate, Change Racing's existing lighting system did not meet their needs. As Benton explained, "They're hot, they're dim, they're inconsistent and they created dark spots in the shop." Faced with a lighting system that did not perform as needed and was too costly to continue operating, Change Racing set about upgrading their lighting system.
Solution
Going into their lighting retrofit project, Change Racing had three goals as Benton explained. "We wanted to increase our light efficiency, we wanted to increase our light brightness, and we wanted to save a little money while doing it." Change Racing selected Orion because they could help them deliver on all three of these goals, or as Benton said, "the guys at Orion did a great job educating me on what my retrofit options were, what my potential savings were going to be and on what I was going to be seeing for a reduction in power usage. So Orion made it an easy choice to choose them for the project."
In the end, Change Racing elected to retrofit their entire 40,000 square foot Concord, North Carolina facility with Orion's LED products. In their shop area, Change Racing replaced their existing HID fixtures with Orion's APOLLO® LED high bay fixtures with sensors that control the operation of the fixtures based on the amount of either activity or ambient light in the shop. In addition, Change Racing also replaced their existing fluorescent strip and task lighting with Orion's LED solutions including their APOLLO® LED tubes, Strip Retrofit and Suspended Ceiling fixtures, and their HARRIS Strip Retrofit fixtures, depending on the application. In the offices, Change Racing replaced their existing fluorescent troffer fixtures with Orion's HARRIS LDR® LED Troffer Retrofit Edge units which were installed with limited interruptions to the team's activities, and without disturbing the existing ceiling grid. Finally, Change Racing also sought to maximize their energy savings by installing Orion's APOLLO® Solar Light Pipes which helped them to maximize the amount of ambient light they could use to light their facility.

Choosing Orion went beyond the system savings, however substantial they were. Change Racing often gets their race cars into the shop on a Thursday morning and must have them ready to ship back out on the following Friday. So, space, speed and efficiency are at a premium in their facility. As such, Change Racing also selected Orion because of its innovative product packaging and shipping programs which helped speed up the installation. Orion's packaging is designed to minimize waste and help customers spend less time unpacking fixtures and more time installing them. Orion's product packaging can also be used to store cardboard and existing fixtures which helps to accelerate the fixture recycling and project clean-up. Orion's innovative shipping kits group all of the products and required accessories together by the space where they are to be installed. This allows customers to move the product kits to space where they are needed and everything will be ready to install. As Benton explained, "the most surprising part of the projects was how easy the fixtures were to install, both mechanically and electrically."
All the benefits from updating our light fixtures have been positive, and it's a project I wish we had embarked on sooner after seeing the results.

Robby Benton, Team Owner
Result
"We are really proud of the project. It has had all of the benefits of LED lighting that you'd come to expect – more energy efficiency, less noise, less heat. All of those things are fantastic." According to Benton, Change Racing is already seeing the benefits of its lighting upgrade. The Orion fixtures have significantly improved the quantity and quality of lighting, delivering over 100 foot-candles (fc) in the shop, and removed the dark spots that old HID fixtures had generated.

Based on their initial analyses, Change Racing expects to reduce its lighting light load by over 40 kilowatt (kW) and their annual energy consumption by over 175,000 kWh. In addition to reducing their lighting consumption, the APOLLO® LED high bays that Change Racing installed also run about 90% cooler than their HID fixtures which is reducing their air conditioning load and further reducing their operating costs. To put the project savings in context, Change Racing's energy savings is equivalent to the electricity needed to power over 15 North Carolina homes for a year. Benton summed up the project's success, "All the benefits from updating our light fixtures have been positive, and it's a project I wish we had embarked on sooner after seeing the results."

In the end, Change Racing undertook this project to improve their bottom line, and it has. The project is expected to reduce Change Racing's utility bill by over $15,000 per year, which is about 60% of their current bill. These savings will be poured back into meeting the team's goal of winning more races. As Benton explained, "In a sport where money buys speed, we can divert the energy savings from our lighting retrofit to other areas that will increase our performance on the track."