Flexible Business Models for Different Projects
Orion works with partners on projects involving complex structures or fewer than 1,000,000 square feet on a local or regional level. This is mutually beneficial while providing excellent products and services to the customer.
We adhere to four standard business models for working together.

MODEL 1
Orion Provides Fixtures/Products
As the more traditional model, our partner leads the project and drives the customer relationship throughout the selling and installation processes. We provide the required fixtures and other elements to complete the job, and may collaborate to ensure specifications and other customer requirements are met.

MODEL 2
Orion Hires Partner to Install
In this instance, Orion heads up the project and takes care of customer interactions. Our partners join the project to provide labor for our construction management team while we handle the selling, auditing, and installation. When our partner completes their work, they'll bill us for their services.

MODEL 3
Partner Refers Large-Scale Rollout to Orion
We join forces once our partner has found an opportunity for a large multisite project in need of our support. Then, similar to Model 2, we hire the partner for labor if we land the project, after paying the partner a fee or commission. Orion takes the lead on the project and may use other partners for added labor support if needed.

MODEL 4
Partner-Led Large-Scale Energy Project
Projects involving an energy service company that entail large-scale carbon reduction or other aspects beyond lighting are a prime fit for this model. Whether it's HVAC, renewable energies, waste management, or something related, the partner subcontracts with Orion to handle the lighting components. We then bill the partner while the partner oversees the entire project.
The Benefits of Partnering with Orion
When we partner, we're just as dedicated to exceptional quality and service to you and the end customer as we are for any other project. We do this while building a long-lasting, complementary working relationship.
Committed to Your Success
Resources. Fair prices. Added value. Orion provides this for every project. Whether it's our skilled team of experts or our high-quality LED fixtures, you'll have access to the tools needed for success.
Some of those tools include marketing support, which is available to boost awareness and help increase profits and business opportunities. Various financial incentives are also available for qualified purchases, and you'll have access to a designated support team.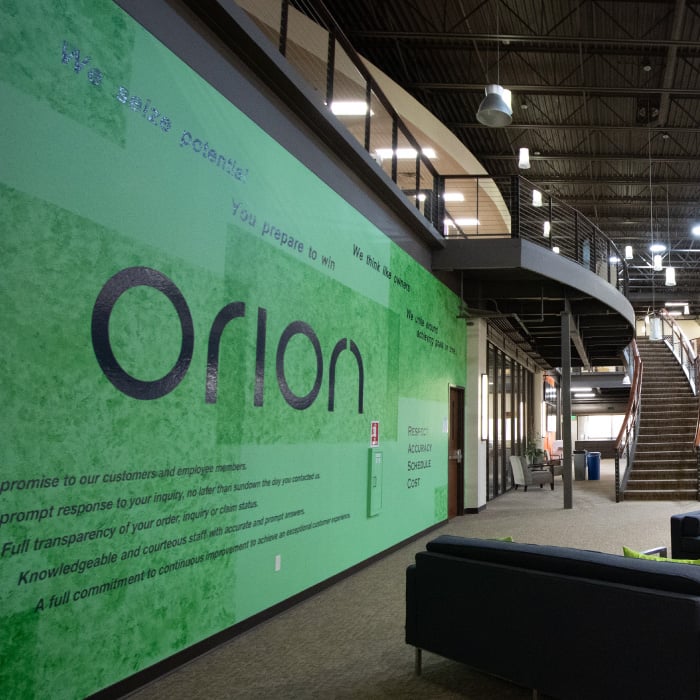 Orion Sales Management
The Sales Management Team oversees all aspects of our partnership.
Orion Sales Representative
Your Sales Representative is your primary contact before and after the sale regarding any technical or ordering questions, shipments, and customer service concerns.
Orion Customer Service Team
Our exceptional Customer Service Team provides world-class service to help resolve issues across any functionality.
Request Partner Program Info
Interested in working together? Let's connect! Request our Partner Program guide to learn more about becoming an authorized Orion partner.