30%
Reduction in System Hours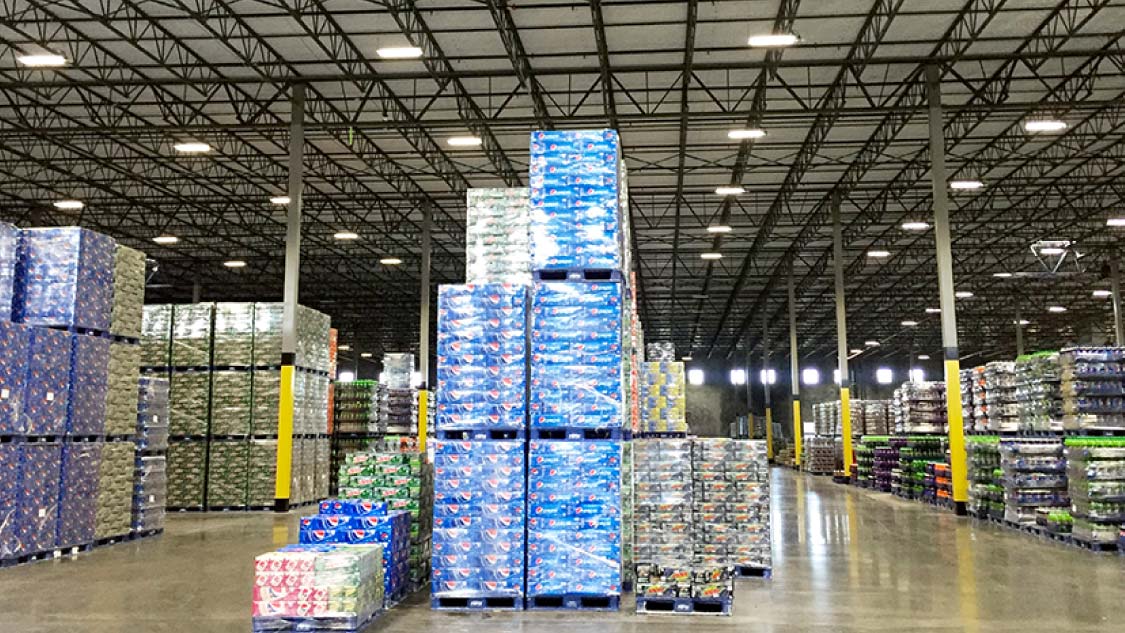 Pepsi Bottling Ventures (PBV) is the largest privately-held bottler for Pepsi-Cola products in North America – manufacturing, selling, and distributing some of the world's most recognized consumer brands. PBV is a privately-held company, operating 20 bottling and distribution facilities, serving consumers in North Carolina, South Carolina, Virginia, Maryland, and Delaware. Corporate offices are located in Raleigh, North Carolina.
When our managers leave their older facilities and step in this warehouse, they say 'wow.' When we explain the energy savings they are really impressed. Not only does the system look good, it is also saving the facility money.

Donnie Stepps, Engineer, Pepsi Bottling Ventures
Challenge
"We wanted to find the most efficient fixture we could get to support our sustainability program, but the fixture itself had to meet food and beverage facility requirements," Donnie Stepps, project engineer at Pepsi Bottling Ventures (PBV), explained as one of the key challenges facing new construction projects. Pepsi Bottling Ventures had to find fixtures that allowed them to meet both their corporate goals/mandates and the operational requirements of their facility. As PBV began development of their new $12.5 million, 200,000 square foot sales and distribution center in Harrisburg, North Carolina, they began looking for manufacturers whom they believed had products that would meet the operational and performance needs of their facility while still consuming less energy than the legacy lighting systems they were using at other facilities.
Solution
"The fixture market was changing so rapidly and there were a lot of people selling LEDs," Stepps added. "We wanted to make sure we bought the right fixture." Faced with the challenge of choosing from a rapidly expanding LED fixture market, PBV elected to test a number of lighting fixture options in some of their existing buildings, which gave them the opportunity to see how they would perform in the new Harrisburg, NC building. After a significant search and review process, Pepsi Bottling Ventures selected approximately 300 of Orion's ISON™ LED High Bay Cold Environment (LEDE) fixtures.

Pepsi Bottling Ventures selected the Orion fixture for a number of reasons. Having previously retrofitted other PBV facilities with Orion's fixtures, the company knew that Orion's products would meet their warehouse lighting performance and operational requirements. Moreover, since Orion's products can be specifically configured for warehouse facilities, they would deliver the light distribution the PBV's staff needed in their Harrisburg, NC facility. PBV also selected Orion because of Orion's fixture design and durability and because the Orion fixtures are easy to clean and maintain.

Orion was also selected because it was able to meet the delivery lead times that Pepsi Bottling Ventures needed to complete their project on time. Due to its focus on manufacturing flexibility and by working with local suppliers, Orion has some of the fastest delivery times in the industry, typically within five to ten business days of receiving a customer's order. In fact, Orion's history of on-time delivery set Orion apart from the competition because Orion was the only supplier who could meet Pepsi Bottling Venture's on-site requirements for the fixtures.

Pepsi Bottling Ventures also chose Orion because Orion's patented fixture designs deliver some of the highest light levels in the market without overdriving the LED components. This meant Pepsi Bottling Ventures was able to maximize the light in their facility without sacrificing the life of the fixture. Orion also provided Pepsi Bottling Ventures engineering information, technical support, photometric designs, and control system design assistance during the project's preliminary stages, which was one of the most important reasons Orion was selected for the project. As Stepps explained, "Orion was very helpful when we were determining who to place an order with, and that was one of the key reasons we chose Orion. They may not have been the cheapest option but Orion provided the most overall value."
The fixture market was changing so rapidly and there were a lot of people selling LEDs. We wanted to make sure we bought the right fixture.

Donnie Stepps, Engineer, Pepsi Bottling Ventures
Result
Since the 200,000 square-foot Pepsi Bottling Ventures facility was built in Harrisburg, North Carolina, PBV has been measuring the project's performance differently than a traditional retrofit project. The consumption of the Orion LED fixtures had to be compared against the legacy lighting systems in the company's other buildings. According to Pepsi Bottling Venture's internal assessments, the lighting system is meeting the performance expected by the project calculations. Moreover, due to the use of the motion control units that were installed with Orion fixtures, Pepsi Bottling Ventures is seeing a 30% reduction in their system operating hours, as fixtures shut off when the areas they illuminate are not in use. Finally, Pepsi Bottling Ventures measured the foot-candle performance of the Orion LED fixtures and they are meeting or exceeding the light levels predicted by the photometric analysis that Pepsi Bottling Ventures completed while choosing their lighting system.

In addition to the technical measures of performance, Pepsi has seen a number of more personal measures of the lighting project's success. The installation went smoothly and the installer noted that because of Orion's plug and play options and mounting hardware, the fixtures were easy to install. The employees in the facility are noticing that the light is distributed more evenly throughout the facility and the consistency of the light levels is decreasing shadows throughout the facility. Finally, even Pepsi Bottling Ventures management has noticed the difference between the lights in their older buildings and the lights in the Harrisburg facility. "When our managers leave their older facilities and step in this warehouse, they go 'wow,'" Stepps explained. "When we explain the energy savings, they are really impressed. Not only does the system look good, it is also saving the facility money."