One of the first steps in helping determine the right commercial outdoor LED lighting is to identify the desired light distribution, color temperature, wattage, controls, and mounting options that align with their needs. It's critical to find a lighting provider with solutions that allow for in-field adjustments to occur in order to speed up installation time and provide late-point-definition flexibility.
Let's take a look at some of the options available today:
1. Light Distribution Type
Light distribution refers to the way light from a fixture spreads – how wide or narrow, and in which direction(s); this is done by the lens placed over the top of the LEDs. Here are the most common options for commercial exterior lighting: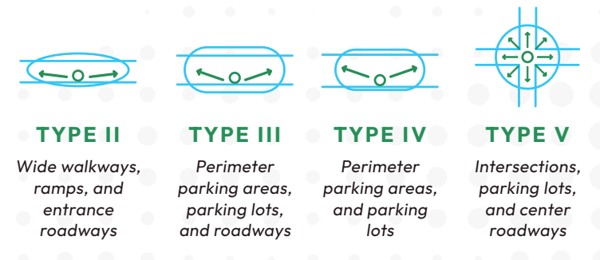 Type II: This distribution of light is best for wide walkways, ramps, and entrance roadways. Compared to other types, light in type II light distribution is spread relatively narrowly
Type III: Type III light distribution is broader than type II, making it ideal for perimeter parking areas, parking lots, and roadways where a larger area of light is required. Fixtures utilizing type III light distribution are commonly placed to the side of the area, allowing the light to project outward and fill the area
Type IV: Broader in coverage area than either type II and type III, this light distribution is typically used to illuminate perimeter parking areas and parking lots. Type IV light distribution produces a semicircular light meant for mounting against buildings
Type V: Type V is lighting distributed from a center point radially, making it the best choice for intersections, parking lots, and center roadways where a large coverage area is needed. Type V produces a 360°distribution, with equal light distribution in the surrounding area. Type V distributions provide the largest, most even pattern of light
The new Harris Area Light Lumen Select, Gen 1 by Orion allows for quick tool-less lens swaps for quick in-field flexibility.
2. Field-Adjustable Color Temperature (also called Correlated Color Temperature, or CCT)
"Temperature" refers to how cool or warm the light is, and today's CCT-integrated exterior LED fixtures allow you to easily adjust the temperature of your lighting with the flip of a switch to make quick, in-field adjustments. This feature means that each LED fixture can be set to a different temperature and changed to meet the aesthetic needs of your space.
3. Field-Adjustable Wattage & Light Output
Not only do you have the option to warm up or cool down your lighting, but you can adjust wattage and light output (brightness), too. Field-adjustable fixtures make it possible to change wattage and output on-site, and eliminate the need to stock multiple wattages.
Today's best commercial outdoor LED lighting fixtures come with lighting controls ready to save you time and improve both functionality and flexibility. Orion lighting controls and sensors range from basic to advanced.
IP66-rated Bluetooth remote programmable controls. Bluetooth lighting controls allow staff to easily operate and manage lighting systems through a web-based mobile app. They are IP66-rated against hose-directed water/falling drops of rain and snow
IP65-rated IoT or connected lighting sensors. "Connected lighting" refers to the linking of lighting, controls, and sensors to a local network, allowing users to monitor and control (wired or wirelessly) through a computer, tablet, or smartphone dashboard. They are IP65-rated against dust and water ingress
Microwave sensors. These sensors send out radio waves; when those waves bounce back, the sensor can detect any changes in the waves that indicate motion. Sensors can be programmed to turn on the light when motion is detected and to stay on for a specific period of time afterwards
Passive infrared (PIR) sensors. A PIR sensor measures infrared light radiating from objects in its field of view. These sensors are most commonly used to detect people, whose presence/motion can be set to trigger lighting to turn on
Photocells. These sensors automatically adjust to surrounding ambient light levels, triggering exterior lights to turn on at sunset and turn off at dawn
5. Mounting Options
Most fixtures are available in different mounting options to accommodate for different wall and pole types, and to allow the fixture to be precisely positioned with light distribution types in mind. Depending on the fixture, you have these options available:
Options for Flood/Area Lights
Trunnion mount and yoke mount. These two options allow for a fixed axis of adjustment (i.e., the fixture pivots on a bracket). Trunnion-mounted lights pivot on the side of the fixture, while yoke-mounted lights pivot in the middle

Adjustable arm mount.

T

hese mounts allow adjustment of the fixture's angle from 30° to 90°




Universal pole mount. This is a sturdy mounting bracket with adjustable loops that secure to any diameter pole

Slip-fitter mount. Slip-fitter mounts slide over the pole and can be rotated, allowing you to change the direction of light. Electrical wiring runs through the mount, protecting it from the elements

Adjustable wall mount. Adjustable wall mounts provide 180° flexibility to direct lighting angle

Slide & lock mount. These rail-type mounts allow you to quickly position a fixture into the mount, then lock it in place
Knuckle mount. These mounts screw directly into a conduit port; electrical wiring runs through the mount rather than externally. Knuckle mounts can be screwed directly into most common junction boxes.
Options for Wallpacks and/or Canopy Fixtures
Back-plated mounts allow you to place a fixture directly over a standard recessed junction box for surface mounting
Quick mount. Typically a quick mount system comes with a mounting plate with designated holes for drill patterns that the fixture can be attached/reattached to easily
Another important consideration when undertaking an LED lighting project is how best to finance it. Orion's Energy-as-a-Service (EaaS) finance solution gives our customers access to premier lenders (and preferred rates), eliminating the need to pull from your cash reserves. This means no waiting for capital approval in order to start reaping the energy savings and other benefits associated with LED lighting.
Two additional ways we support an attractive return on investment of lighting projects is through product warranties and our maintenance service program. Our proactive service approach (and several valuable service add-ons) ensures optimum system up-time, and helps maintain productivity by eliminating the need for your workers to take time to do maintenance.
Want to learn more about commercial outdoor LED lighting? Click the link below to start a conversation with one of our lighting experts or download our Exterior LED Lighting Product Guide to learn more.
Subscribe to Energy Insights